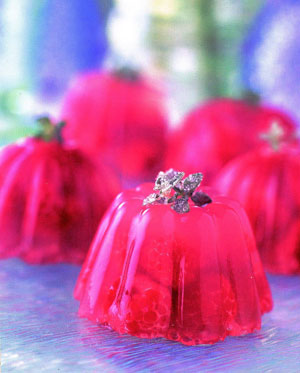 In high summertime, a cool, tangy, quivery dessert is just the ticket. Fragrant lime and juicy raspberries combine in this pretty dessert, which also happens to be fat-free. You can make this in one loaf pan and serve in slices, or, if you have any little dessert molds in your kitchen cabinets, this is a fun way to use them. I collect vintage ones and love using them for this recipe.
The frosted thyme sprigs look like little snow-covered pine branches. They are very easy to make and look very impressive.
Ingredients
Makes 8 Servings 
For the terrine:
1 ¼ cups sugar
3 tablespoons powdered gelatin
1 cup freshly squeezed lime juice
2 to 2 1/2 cups raspberries
For the garnish:
1 egg white
2 tablespoons sugar
Fresh thyme sprigs
Instructions
Make the terrine: Combine the sugar with 1 ¼ cups water in a saucepan. Bring to a simmer and stir to dissolve the sugar. Set aside.
Meanwhile, pour 2 tablespoons cold water into a small bowl and sprinkle the gelatin over the surface. Let "sponge," allowing the gelatin to absorb the water, about 3 minutes. Stir the gelatin mixture into the hot syrup and stir to dissolve. Whisk in the lime juice and 2 cups more water.
Place the raspberries in a loaf pan or divide them among individual molds. Pour in the lime liquid. Refrigerate until chilled and firm, at least 3 hours. *
Make the garnish: Whisk the egg white in a bowl to brake up the tightness of the albumin. Spread the sugar out in a shallow bowl. Dip a thyme sprig in the egg white, shake them off a bit then dredge in the sugar. Set on a wire rack to dry a few minutes or over night.
When ready to serve, dip the bottom of the pan into hot water for 10 seconds. Flip the terrine out onto a serving platter and garnish with thyme sprigs. Serve in slices.
* The terrine can be refrigerated for up to 2 days. The sprigs can be made up to 1 day ahead and stored at room temperature. Do not store in an airtight container.