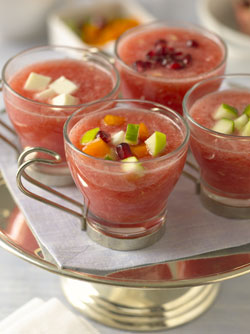 The first time I hosted a dinner party in my own apartment was when my parents came to visit me halfway through my first semester of art school in Cleveland to make sure I was okay. I made tomato gazpacho, a soup made from a puree of fresh tomatoes with other ingredients offered at the table to stir in. I got creative and had things like cottage cheese, croutons, and popcorn, as well as traditional vegetables like cucumbers and peppers. And I've been playing with different versions of gazpacho ever since. Here's the latest, thirty-something years later.
Ingredients
Makes 4 to 6 servings 
4 cups watermelon cubes, seeds removed as much as possible
Sugar, to taste
1/2 cup seeded and cubed (English) cucumber
1/2 orange or red bell pepper, diced
1 green apple, cored and diced
¼ cup pomegranate seeds
½ cup cubed fresh mozzarella
Instructions
Put the seeded watermelon cubes in a blender and pulse briefly to purée, leaving some texture to them. Transfer the watermelon to a container with a pour spout. Taste and sweeten with sugar if it's tart.
Chop all the vegetables and fruit and keep chilled until ready to serve.
To serve, pour the watermelon soup into clear bowls or glasses with handles (the kind cappuccino is served in). Garnish each bowl with a bit of cucumber, bell pepper, apple, pomegranate, and mozzarella, or set the bowls of soup on a buffet with the vegetables, fruit, and cheese in small serving bowls with spoons and let people garnish their own soup.