Ingredients: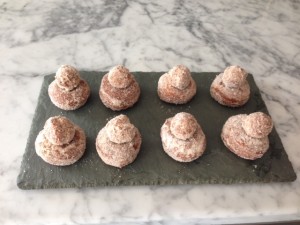 For the doughnutdough:
3 1/2 cups flour
4 teaspoons baking powder
¼ teaspoon baking soda
1 ½ teaspoons cinnamon
1 teaspoon salt
¼ teaspoon ground nutmeg
2/3 cup sugar
3 tablespoons butter
1 egg
1 yolk
1 cup apple sauce or apple butter
¼ cup buttermilk
1 teaspoon vanilla
For the coating:
1 cup sugar
2 teaspoons cinnamon
To finish the recipe:
Canola oil for frying
Instructions: 
To make the dough, in a bowl, stir together the flour, baking powder, baking soda, cinnamon, salt and nutmeg. In the mixer with a paddle attachment, combine the sugar and the butter until sandy. Mix in the egg and the yolk, then mix in the apple sauce. Mix in half the flour mixture, then the buttermilk, and then the rest of the flour mixture. It will make a sticky dough. Wrap it in plastic wrap and chill for at least 2 hours or overnight.
For the cinnamon sugar, combine the remaining sugar and cinnamon and keep in a shallow pan.
Roll the dough ½ inch thick and cut out desired size rounds, then use a smaller cutter to cut out the center to make doughnut holes. You can hold them chilled (or frozen) like that on a parchment lined sheet pan or fry them right away.
To fry, heat 2 inches of canola oil in a pot to 350 degrees. Add a few doughnuts at a time and cook on both sides 1 to 2 minutes till lightly browned. Remove from the oil and drain on paper towel briefly and then dredge immediately in cinnamon sugar. Serve while still hot, if possible. Enjoy!