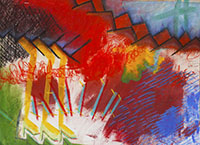 Gale's artwork will be featured at The River North Design District's 2nd Annual Fall Gallery Walk starting September 9, 2016. While her fans know her as a world class pastry chef, few know that Gale is also an abstract expressionist painter working mostly in pastel on paper with touches of tempera paint and elements of collage.
Gale will also be present opening night to kick off the show!
Gale's artwork can be seen along Lynn Basa's work on Exhibit at Jesse Home Element, 745 N Wells St Chicago, IL 60654, through December 9, 2016. More information can also be found on the Fall Gallery Walk's Facebook page.
Like what you see? Gale's pieces will be available for purchase at the show!