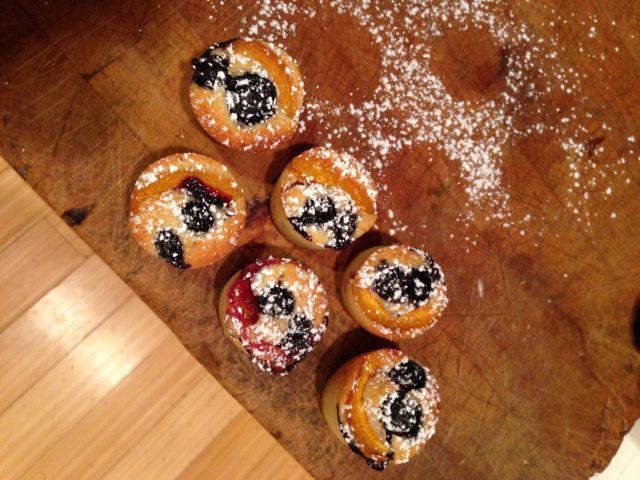 Financiers are simply buttery sponge cakes, with a scoop of almond flour added for moistness and flavor. They are the perfect base for tangy fruit that don't need much enhancement (like berries). If you have never made brown butter, or beurre noisette ("hazelnut butter"), you'll be amazed at how it adds to the nutty, toasty flavor of the finished dessert.
Using professional almond flour will give you a paler, finer cake, as it is made from blanched almonds. But you can use supermarket ground almonds; the flavor will still be excellent, though the color will be darker.
Ingredients:
9 tablespoons (1 stick plus 1 tablespoon) unsalted butter
½ cup almond flour or ground almonds
1 cup confectioner's sugar, plus extra for sprinkling
¼ cup plus 2 tablespoons all-purpose flour
½ cup egg whites (from about 4 eggs)
4-5 ripe fresh apricots, cut in wedges
About 50 blueberries, or other berries of your choice
2 mini muffin tins, or about 40 small baking molds, thickly buttered
A pastry bag (optional)
Instructions:
Makes 20 to 30
Make the brown butter: Melt the butter in a saucepan over medium heat. The butter will separate into melted golden fat and white milk solids. Keep cooking until the milk solids turn golden brown and the mixture smells like toasted nuts, making beurre noisette (hazelnut butter).   Let cool slightly, then strain through a fine strainer to remove the burnt milk solids.
Sift the dry ingredients together into a bowl and transfer to a mixer fitted with a whip attachment. Add the egg whites and strained beurre noisette and mix. (The recipe can be made up to this point and kept refrigerated up to 3 days in advance.)
When ready to bake, heat the oven to 400 degrees. Pipe or spoon the batter into the prepared pans, filling them ¾ full. Place a wedge of apricot and 2 blueberries in the
center of each mold. Bake for 14 to 18 minutes, or until golden and lightly browned around the edges. Let cool in the molds, then gently lift the cakes out. Sprinkle with confectioner's sugar and serve.