Gale Gand
Founding Pastry Chef and Partner, Tru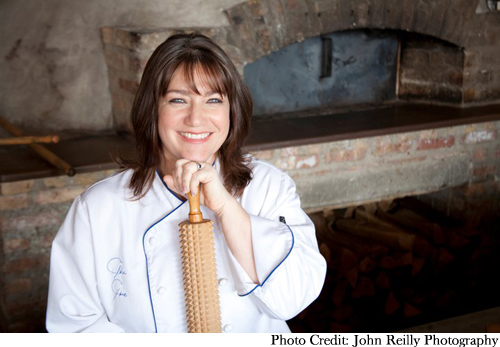 Chef Gale Gand is a nationally acclaimed pastry chef, restaurateur, cookbook author, television personality, teacher, entrepreneur, and mother. Chef Gand has been recognized as Outstanding Pastry Chef of the Year by The James Beard Foundation and by Bon Appetite magazine and has been inducted into the Chicago Chefs Hall of Fame.
Gale's latest restaurant project, the 2 year pop up Spritz Burger (Feb 2014- Mar 2016) in Chicago's Lakeview neighborhood, was a collaboration with The Hearty Boys, (Dan Smith and Steve McDonagh) who won Food Network's reality competition "The Next Food Network Star", season 1. The menu featured vintage seltzer cocktails, house-made sodas including Gand's cinnamon-ginger-vanilla root beer, grass-fed burgers, and desserts by Gale.
For 8 years, Gale hosted the Food Network series "Sweet Dreams," the first nationally televised all-dessert show anywhere. Gale has made appearances on "The Martha Stewart Show," "Oprah," "The Dr. Oz Show," "Baking With Julia" (Child), "Good Morning America," "The Rachael Ray Show" and "The Today Show." She competed on "Iron Chef America" and has been featured as a celebrity judge on "Food Network Challenge," "Last Cake Standing," "Top Chef" and "Top Chef Just Desserts."
Gale is the founding pastry chef and partner of the beloved Chicago restaurant Tru, opened with long-time culinary partner Chef Rick Tramonto and restaurateur Rich Melman in 1999. Tru quickly became a sensation among Chicago's fine dining community and has earned ecstatic praise from reviewers, receiving accolades from the James Beard Foundation; the Michelin, Mobil and AAA guides; Relais Gourmand; Wine Spectator magazine; and was named Chicago's Best Restaurant by Chicago Magazine. Prior to opening Tru, Gand and Tramonto earned increasing acclaim at their Chicago area restaurants Trio and Brasserie T, and at Stapleford Park, an historic country house hotel near Melton Mowbray in Leicestershire, England, where in 1991 Tramonto and Gand became the first American chefs to earn a Michelin Red M.
Gale is a prolific cookbook author with eight titles to her credit, including her most recent "Gale Gand's Lunch!," released in April 2014. Earlier titles (written with Rick Tramonto) include: American Brasserie (1997); Butter Sugar Flour Eggs (1999); and Tru: A Cookbook from the Legendary Chicago Restaurant (2004). More recently, Gand authored Just a Bite (2001); Short and Sweet (2004); Chocolate and Vanilla (2006) and Gale Gand's Brunch (2009) now in it's fifth printing.
Gale produces her own artisan root beer, "Gale's Root Beer," which is available nationally. And each year in the spring months, Gale and her son Gio supply local restaurants with wild ramps foraged from wooded areas near their suburban Chicago home.
Gale was the Chef in Residence in 2011 and 2012 at Elawa Farm in Lake Forest, Illinois, a beautifully preserved and restored early 20th century "gentleman's farm" that is now home to an organic community garden, an ecological learning center, and a meeting space for community activities and private events. Gale continues to host a series of cooking classes in the Elawa farm kitchen, including ingredient driven Master Classes and a Kids in the Kitchen Classes.
In addition, Chef Gand frequently teaches cooking classes at such places as Eataly Chicago, Blackberry Farm in Tennessee, King Arthur Flour in Vermont, and Zingerman's in Michigan, to name a few. She has 2 classes available on Craftsy.com, one on Meringues and one on Custards. She also does public speaking, cooking demonstrations and book signings at the Chicago Botanic Gardens, local elementary and high schools, public libraries, temples and churches, book shops, farmers markets, and myriad other locations around the Chicago area. Gale also appears frequently at national and international Food and Wine festivals such as The Epcot Food and Wine festival at Disney World, The Aspen Food and Wine Classic, The World Gourmet Festival in Bangkok, The San Diego Food and Wine Festival, Pebble Beach Food and Wine festival, etc. In the summer of 2013 Gale was the guest chef for 2 weeks on A-Rosa's Rhone River Cruise through the south of France.
In the summer of 2008, two of Gale's desserts were featured at the USA House at the Beijing Olympics. In 2011 Chef Gand was chosen by Mayor Daley to create the desserts for Chicago's  welcome dinner for China's President Hu in 2011. Gale participates in many national and local charities. In 2010 and 2011, she was a mentor in First Lady Michelle Obama's Chefs Move to Schools initiative, which helps fight childhood obesity through nutritional education.
Gale holds a Bachelor of Fine Arts degree from the Rochester Institute of Technology,  majoring in silver and gold smithing, and attended culinary school at La Varenne in Paris. Gale's late father Bob and brother Gary are both professional musicians, and Gale performed frequently with them as a child in the Gand Family Singers including at DisneyLand, University of Chicago Folk Festival, OzarkFolkloreCenter, Expo 67 in Montreal, and the 1973 World's Fair in SpokaneWashington. Her mandoline teacher was Jethro Burns of Homer and Jethro fame. She resides in Riverwoods, Illinois with her husband, Jimmy Seidita, son Gio (19), twin daughters Ella and Ruby (11).
For the latest information about Chef Gale Gand, visit www.galegand.com .