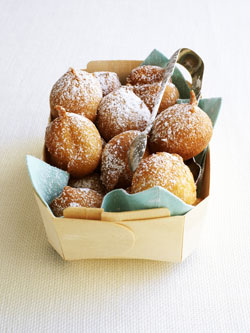 My Sicilian-American mother-in-law, Vita Seidita, taught me how to make these tender-on-the-inside, crisp-on-the-outside doughnuts, which she often made for her family on Sunday mornings. All the kids would hover near the stove as she lifted the hot doughnuts out of the oil onto a brown paper bag for draining, and then their job was to roll them quickly in cinnamon sugar. Because the doughnuts are kind of egg-shaped I've adopted a tradition of making them for Easter breakfast while the family is outside in the yard on their Easter egg hunt, trying to find the eggs before Rootie, our dog, does! Cinnamon sugar is 1 teaspoon cinnamon combined with 1/3 cup sugar (you can double or triple this and keep some in your pantry for whenever). For a more traditional donut taste, along with the vanilla, add a pinch of nutmeg to the batter.
Ingredients
Makes 16 doughnuts 
6 large eggs
1/2 cup sugar
1 pound whole or skim milk ricotta
2 1/2 cups all-purpose flour
1 heaping tablespoon baking powder
1 teaspoon pure vanilla extract
Canola or vegetable oil for frying
Powdered sugar in a shaker or cinnamon sugar (optional, see headnote)
Do-Aheads
You can cover the bowl of batter and put it in the refrigerator at this point (up to 1 day ahead) until you're ready to fry but you may have to increase the frying time slightly to compensate for the colder batter.
You'll need
Deep-frying thermometer
Instructions
1. In a large bowl, together the eggs, sugar, ricotta, flour, baking powder, and vanilla extract until combined, being careful not to over mix the batter.*
2. Heat 2 to 3 inches of oil in a deep, heavy pot to 325°F. Drop the batter by small ice cream scoopfuls or small spoonfuls (use 2 teaspoons) into the oil and fry for 3 minutes, turning often, until golden brown on each side. You may need fry the doughnuts in two batches to avoid crowding the pot. Break open doughnut to make sure it's cooked all the way through. Scoop out the doughnuts with a slotted spoon and transfer to paper towels or a brown paper bag to drain. Let the oil come back up to temperature and repeat with remaining batter.
3. Dust heavily with powdered sugar or cinnamon sugar and serve hot.