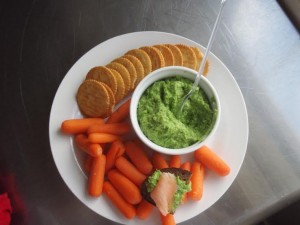 This is a perfect spring and summer dipping dish. It smacks of the first produce of the season and is such a lively green color, it would look great withbeef tenderloin or shrimp, or just on it's own.
Ingredients 
1 pound bagfrozen peas, thawed
10 mint leaves
2 medium cloves garlic, peeled
½ teaspoon salt
1/8th teaspoon black pepper
6 tablespoons good quality extra virgin olive oil
Instructions
Serves 8 as an appetizer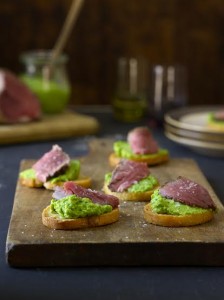 Place all the ingredients in a foodprocessor and puree till well blended and relatively smooth. Serve cold with pita chips to dip. Or spread on crostini and top with a thin slice of beef tenderloin for a great hors d'oeuvre. Keeps in the fridge covered for at least 4 days.