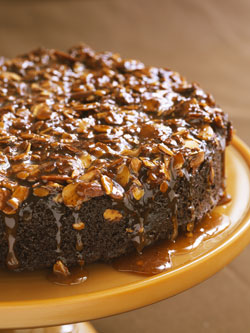 Who says upside-down cake has to be a vanilla cake with pineapple rings and maraschino cherries? This chocolate cake with a gooey-nutty topping is an upside-down cake designed for chocolate lovers. I like it made with almonds, but you can use whatever kind of nuts you like best, say hazelnuts or walnuts, or combine several kinds to clean out the pantry. If there happens to be any cake leftover you'll find it's great the next day. Note that a serrated knife cuts the cake more easily than a regular blade.
Ingredients
Makes 10 Servings 
For the caramel topping:
6 tablespoons unsalted butter, melted
3/4 cup light brown sugar, packed
1/4 cup honey
1 1/4 cups sliced or slivered almonds, lightly toasted
For the cake:
1 1/4 cups cake flour
1/2 cup cocoa powder, preferably Dutch-processed
1 teaspoon baking soda
1/2 teaspoon salt
8 tablespoons (1 stick) unsalted butter, softened
1 1/2 cups sugar
3 large eggs
1 cup buttermilk
1 teaspoon pure vanilla extract
Do-Aheads
The cake can be make a day ahead to this point.
The cake keeps at room temperature for up to 2 days.
You'll need
9 or 10-inch round cake pan
Instructions
1. Generously grease a 10-inch round cake pan. To make the topping, pour the melted butter into the cake pan and swirl to coat the bottom; then sprinkle in the brown sugar. Drizzle in the honey and sprinkle the almonds evenly over the bottom.
2. Preheat the oven to 350°F.
3. To make the cake batter, sift the flour, cocoa powder, baking soda, and salt together three times (this is to make the cake extra light).* Beat the butter in a mixer fitted with a whisk attachment until smooth and fluffy. Add the sugar and mix. One at a time, add the eggs, mixing after each addition. Beat until fluffy and light, about 3 minutes. With the mixer running on low speed, add a third of the dry ingredients and mix to combine. Mix in half of the buttermilk, and then another third of the dry ingredients, before adding the remaining buttermilk. Finish with the remaining dry ingredients and mix until smooth. Pour the batter into the pan.
4. Bake until set in the center and springy, 25 to 35 minutes. Run a knife around the edge of the pan and immediately invert the pan onto a serving platter. Let it sit with the pan still on top for 5 minutes so the caramel can soak into the cake a bit, before removing the pan. If the topping is sticking to the pan, warm the pan surface over a low burner to loosen the caramel and then pour it over the cake. Let cool completely.** Cut into wedges with a serrated knife.