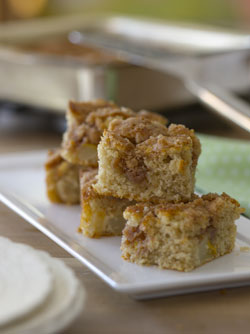 My grandma Elsie on my mother's side was a great baker in the Austro-Hungarian tradition. Strudels, poppyseeed cakes, coffee cakes, and cookies always seemed to be in her kitchen when we visited. I found a great apple streusel coffee cake recipe in her card files when I became the keeper of those treasures. Here it is, revived, with my little twist of using pears instead of apples.
Ingredients
Serves 8 
For the Cake
1¼ cups all purpose flour
2¼ teaspoons baking powder
½ cup sugar
½ teaspoon salt
½ teaspoon cinnamon
1 egg
½ cup milk
¼ cup melted butter
2 ripe pears (I like Bartlett), unpeeled and chopped (1½ cups chopped)
For the streusel topping
½ cup sugar
¼ cup flour
3 tablespoons cold butter, cut up
1 teaspoon cinnamon
Instructions
Heat the oven to 400 degrees. Butter an 8-inch square baking dish.
To make the cake combine the flour,baking powder, sugar, salt, and cinnamon in a medium bowl. In a separate bowl beat the egg then mix in the milk and melted butter. Pour the wet ingredients into the dry ingredients then add the pears and mix well. Pour into the buttered baking dish.
To make the streusel, mix the sugar, flour, cold butter, and cinnamon in a bowl by pinching them together. Sprinkle over the top of the batter. Bake for 30 to 35 minutes, until golden and dry on top. Cool in the pan and cut into squares. This cake keeps for up to 4 days, covered at room temperature.